Jackie Gleason Bus Depot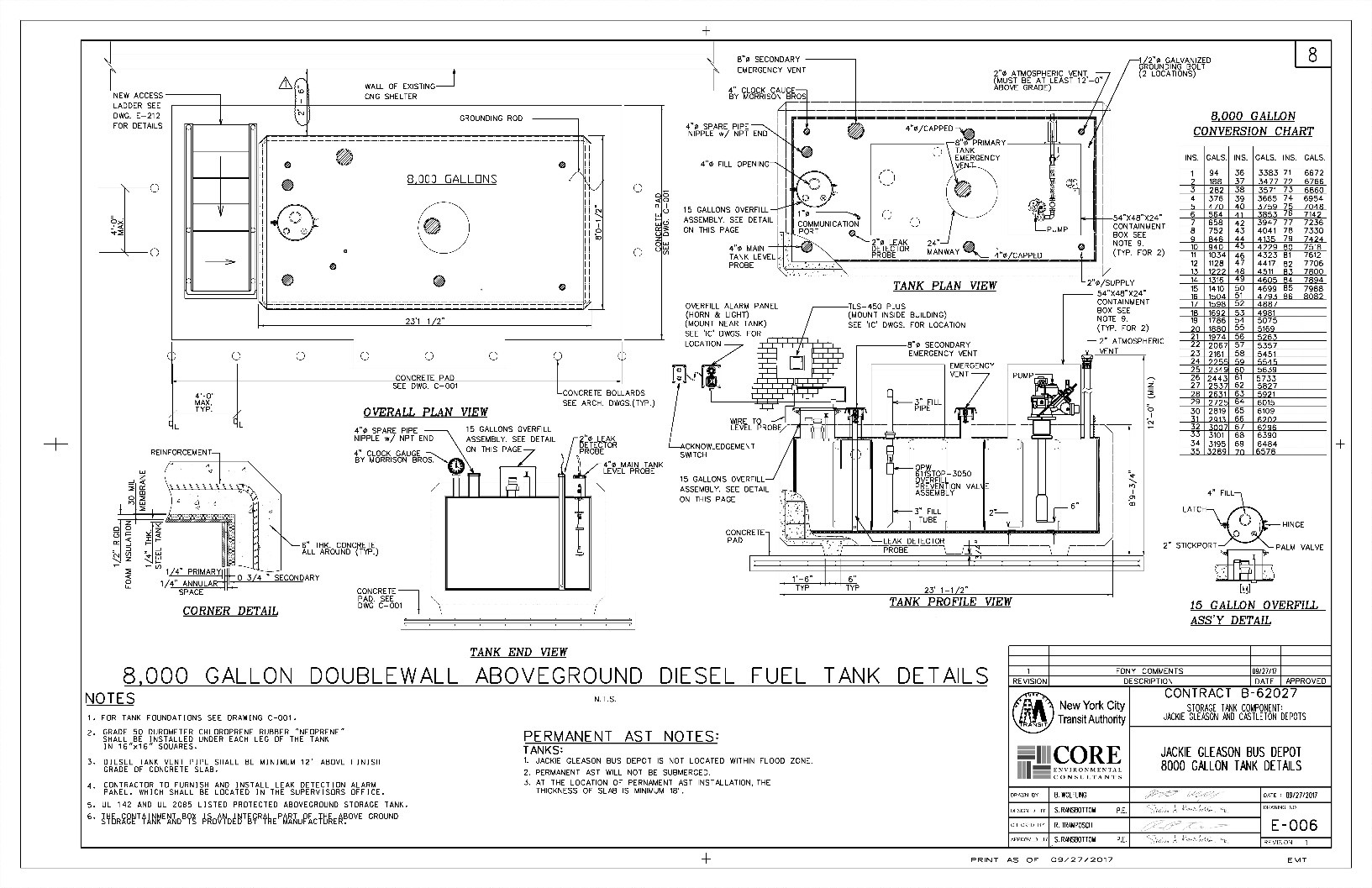 Client:
Franklin Company Contractors
Services Provided:
Tank Design
Dispensing Design
Permitting
Hazardous Materials

STORAGE TANK COMPONENTS: JACKIE GLEASON BUS DEPOT
CORE was retained by Franklin Company Contractors to prepare contract documents for the installation of a diesel fuel above-ground storage tank (AST) and dispensing system at the Metropolitan Transportation Authority's (MTA) Jackie Gleason Bus Depot in Brooklyn, NY. CORE prepared 100% design plans for submission to the Fire Department of New York for approval. The design included an 8,000 gallon double wall diesel AST, concrete pad, overfill and leak detection system, dispensers and dispenser sumps, piping and valves.
The existing diesel filtration system and dispensers will be demolished and are presumed to contain lead paint. CORE prepared a lead placard package which outlines the lead abatement methods and procedures for disposal of lead contaminated materials.
CORE also prepared the Contractor Quality Program (CQP) Manual and Commissioning Plan for Franklin Company Contractors. These plans provide MTA assurance that Franklin will act in accordance with contract specifications and all equipment and systems have been fabricated and installed in the prescribed manner, tested, and will operate win conformity with the contract requirements.
The CQP consists of written policies, procedures and the organization necessary to assure adequate control over activities that may affect quality. The program takes into account the need for special controls, processes, test equipment, tools and skills to attain the required quality. The commissioning plan outlines the organization, schedule process, allocation of resources, and documentation requirements of the the Commissioning Process.